Mrs. Waldron
UNITS
Scientific Inquiry
Earth Science
Physical Science
Life Science
CLASS POLICIES
Absentee Policy:
When a student is absent, they need to access Google Classroom for the agenda and missing work. Extra materials are also found in the classroom on the door organized in yellow folders. All assignments missed are to be completed by the absent student. It is the student's responsibility, not the teacher's, to collect this information and see that it is handed in.  It is also recommended that the student check in with the teacher to ask any questions about the missed work and make sure that there are no other missing assignments.  Students have one day for every day that they were absent to make up the work.  Missed tests and quizzes must be made up within a week from.
Homework Policy:
Homework is an integral part of the curriculum and essential to reinforcing material that was taught in class.  Homework is posted on the board, Google Classroom  and onthe door every day. Students should copy it into their assignment notebook at the beginning of class. Students will receive a 50% for late homework beyond two school days. Homework is considered late if it is incomplete and/or not turned in on time.
Grading Policy:
Several factors make up the trimester grade in Science. In addition to daily classwork, students will have regular homework assignments, quizzes, tests, projects, and laboratory reports to complete.  Effort and participation are very important.  Students are expected to be on time to class and to come prepared. The breakdown of the grade for each trimester is as follows:
Assessments & Projects                     50 %
Labs & Quizzes                                  30 %
Classwork/Homework                         20 %
PowerSchool will be updated on a weekly basis, please refer to this often.     
Retake Policy:
If a student has concerns about their grade, they should discuss with the teacher the reason(s) behind their current average and the necessary steps to take.  At teacher discretion, tests may be redone to indicate improved mastery of the subject matter.  Only the higher grade will be recorded.  Students must complete a Retake Form with parent signature then meet with me to review the retake.  Retakes must be done within five days of the test being returned. 
GOOGLE CLASSROOM INSTRUCTIONS
Google Classroom/School E-mail
How to get started?
2.  Then click on Google Apps button,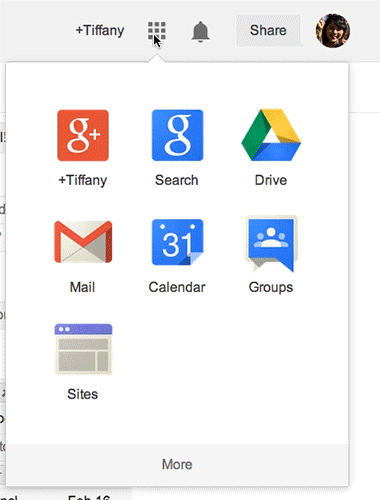 ---
 3.  Under more, select Google Classroom. 

4.  If you have, select the appropriate class and begin your work.
Please note:  Students have NLSD 122 e-mails for school use.  
E-mail address:  firstfullnamelastname@students.nlsd122.org
Below is a video for teachers and students to preview how to use Google classroom.